Meet Dr. Sharon Mexal and Ambry Genetics
Dr. Sharon Mexal is the VP of Clinical Operations at Ambry Genetics. She focuses on operational excellence and laboratory innovation. Ambry Genetics is a privately held, CLIA and CAP accredited lab founded in 1999. The company has completed nearly 1 million tests since opening.
The laboratory has a 40,000 square-foot super-laboratory facility that employs the sample tracking workflow solutions from Agena Bioscience®. They launched iPLEX® Pro Sample ID Panel testing at their super-laboratory in 2016 and have continued to use the panel for an expanding number of assays and samples.
The Challenge
Approximately 70% of medical decisions are based on laboratory results, so getting correct results for each patient is critical.1 Sample labeling and staff review can't always prevent mistakes.
Much can happen in a specimen's chain of custody before it reaches Ambry Genetics. This can lead to complications with sample ID as well as quantity and quality, including:
Incorrect samples sent to laboratories
Incorrect labeling
Contamination
Pre-analytical checks and in-process checks can help reduce these types of mistakes, but they require additional time and cost. More importantly, incorrect or misidentified results can lead to problems in diagnosis and could affect patients' lives.
Dr. Mexal and the team at Ambry Genetics desired a method that combined identity, quantity, and quality testing in one. The iPLEX Pro Sample ID Panel on the MassARRAY® System answers this need.

Explore our off-the-shelf or custom panels with an Agena representative. Complete the form and we will follow up immediately.
The Solution
Ambry Genetics employs the iPLEX Pro Sample ID Panel for sample tracking and quality control on the MassARRAY System. Ambry primarily tests blood samples, but also accepts other specimen types, such as fetal, cord blood, and saliva samples. When samples are received at Ambry Genetics, the samples are barcoded, imaged, and sent to extraction. Throughout each step of testing, from receipt to isolated DNA plate, the samples are verified using their unique barcodes.
Before working with the iPLEX Pro Sample ID Panel, leadership at Ambry Genetics was concerned about maintaining quality control and managing sample tracking in the super-laboratory as it grew and adapted.
"A single tube that's sent in could be an incorrect sample from a medical facility. Often times, multiple family members will get drawn at the same time… at that point, sample tubes can get mixed up," says Dr. Mexal. To combat problems with samples, the laboratory brought on the Sample ID panel from Agena Bioscience.

"It's another way to test the DNA quality and quantity of the sample. We use the Sample ID assay to check for data integrity," Dr. Mexal says. "When we were looking for something in addition to labware barcoding, we investigated the iPLEX Pro Sample ID Panel because it provided us with a DNA fingerprint of that panel."
The iPLEX Pro Sample ID Panel targets 44 SNPs, 3 sex markers, and copy number controls. It features high discrimination power for minimal chance of mix-ups and high confidence in results. The panel outputs a report with easy-to-interpret results. At Ambry Genetics, Dr. Mexal and her team have integrated the Sample ID panel into their testing protocol. They receive results in as little as one day with minimal hands-on time.3
Additional benefits include:3
Low cost per sample
High throughput
Reproducible results
Low DNA input requirements
Reduced reagent waste and turnaround time delays
Robust system
Sample workflow on the MassARRAY® System at Ambry Genetics: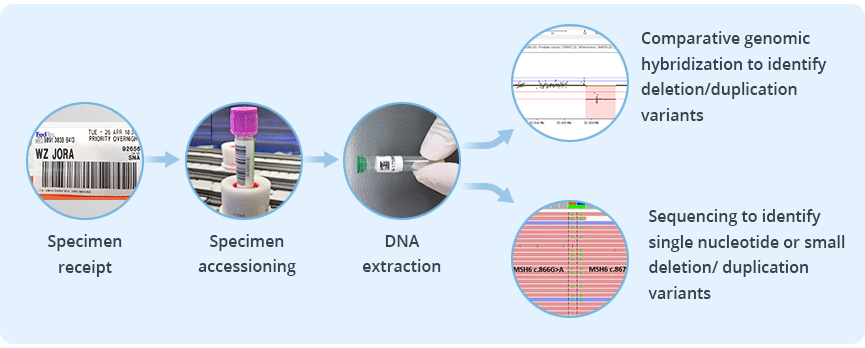 References:
[1] Quest Diagnostics. www.questiondiagnostics.com. Accessed March 28, 2021.  [2] Data on File. Ambry Genetics. 2021.  [3] Data on File. Agena Bioscience. 2021.
See How the MassARRAY System Can Support Improved Sample Tracking and Testing in Your Lab

Browse our panels to support sample integrity.
Explore additional applications for MassARRAY System technology.
Prefer a custom solution? Design your own custom assay or let our expert scientists serve you.