Helping a Michigan Laboratory Scale for a High Sample Volume
In spring 2020, Arctic Medical Laboratories (ArcticDx), located in an industrial complex in Grand Rapids, Michigan was a specialty lab performing molecular genetic testing for uncommon diseases. When the COVID-19 pandemic spread across the US, ArcticDx quickly responded to the growing need for testing by processing samples from nursing homes, hospitals, and even a 1000-employee chicken farm.
Brent Zanke, the laboratory director at ArcticDx, developed an entire processing schema of the sample testing lifecycle, which includes accession, extraction, PCR/SAP/EXT, CHIP, Fly, and .CSV.

Explore our off-the-shelf or custom panels with an Agena representative. Complete the form and we will follow up immediately.
Processing Schema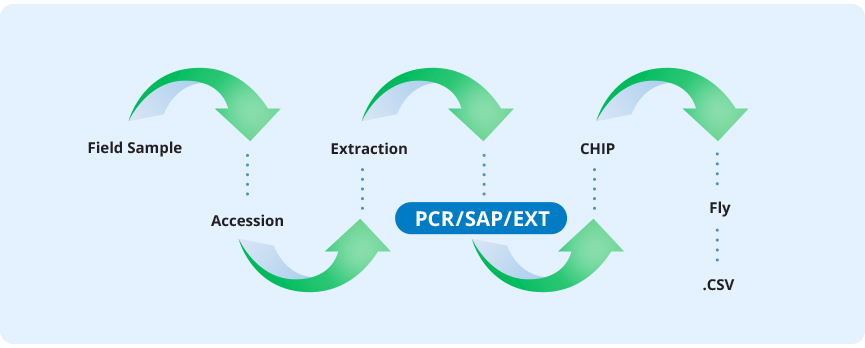 The PCR/SAP/EXT stage is where the laboratory partnered with Agena Bioscience® for a high-volume and low-cost alternative to RT-PCR testing—utilizing the MassARRAY® System that can process up to thousands of samples per day on a single machine for under $10 per sample. Dr. Zanke elaborates on the process below:
"We're set up to do about 400 samples over the course of about an hour and a half from sample receipt through accessioning and extraction using the Mag-Bind Viral RNA Xpress Kit on the Biomek Fx. The 18 double-headed PCR machines at ArcticDx have the high capacity to take the sample plates and proceed to the analysis stage. Each plate accounts for 94 samples plus an internal extraction/amplification MS2 bacteriophage control and a non-template control."

"We considered qPCR but realized that the requirements would be huge to get the output we need as a separate well would be required for each amplification target."

-Brent Zanke, MD, PhD, Laboratory Director, Arctic Medical Laboratories
For an enterprise that could be receiving a thousand—sometimes more—samples per day, the MassARRAY System makes a substantial difference in ensuring the operation can meet the demands.
What can you do next?
The SARS-CoV-2 Panel from Agena Bioscience® enables high-throughput, low-cost detection of COVID-19 caused by SARS-CoV-2 infection. The single-well, multiplexed assay targets 5 highly conserved regions of the viral genome, providing high accuracy and low limit of detection. Visit our SARS-CoV-2 Detection page to learn more.
Available Now
The SARS-CoV-2 Panel has been submitted for Emergency Use Authorization (EUA) from the U.S. Food and Drug Administration (FDA) for in vitro diagnostic use. The SARS-CoV-2 Panel is CE-IVD marked and intended for in vitro diagnostic use in Europe.