Scientists at laboratories in Montpellier, France and Groningen, The Netherlands collaborated to evaluate an innovative method for preanalytical quality control in liquid biopsy samples from non-small-cell lung cancer (NSCLC) patients.1
The Challenge
Liquid biopsy, in which cell-free DNA (cfDNA) is extracted from plasma and tested for the presence of mutations in the circulating tumor DNA (ctDNA) fraction, is an increasingly important method for detecting primary and therapy-induced mutations, information invaluable for accurate treatment decision-making.
However, liquid biopsy samples can be challenging for several reasons. In cancer patients, the ctDNA fraction may be only a small percentage of the cfDNA. In addition, cell necrosis and hemolysis during collection and processing of blood can further dilute the ctDNA fraction. These DNA quantity and quality issues can lead to false-negative results and undermine the reliability of molecular testing using liquid biopsy samples.
Explore our off-the-shelf or custom panels with an Agena representative. Complete the form and we will follow up immediately.
The Solution
Researchers at laboratories in Montpellier, France and Groningen, Netherlands evaluated LiquidIQ Panel from Agena Bioscience® as a method of preanalytical sample assessment for liquid biopsy samples from NSCLC patients, before analyzing them for actionable mutations.
The LiquidIQ Panel is an innovative method of establishing the quantity and quality of cfDNA samples prior to downstream workflows. In addition to quantifying amplifiable DNA, it identifies the presence of long DNA fragments resulting from cell necrosis and estimates white blood cell (WBC) contamination, allowing assessment of sample quality. It also authenticates samples using a comprehensive set of SNPs.
To validate the LiquidIQ Panel, the researchers collected samples from the same patient in either Streck (n = 42) or EDTA (n = 42) tubes and analyzed the extracted cfDNA with the LiquidIQ Panel and QubitTM. Samples in both types of tubes showed a similar number of amplifiable copies and yield, and a strong correlation between the LiquidIQ Panel and Qubit was found (R2 = 0.87).
The researchers then used the LiquidIQ Panel to analyze 137 clinical NSCLC plasma samples, preparatory to using those samples in an evaluation of the UltraSEEK® Lung Panel2 against the Cobas® EGFR Mutation Test v2. DNA amounts found ranged from 2.3 ng to 25 ng. Fair concordance was shown between the Liquid IQ Panel, fluorescence quantification by Qubit, and microfluidic electrophoresis performed on a LabChip®.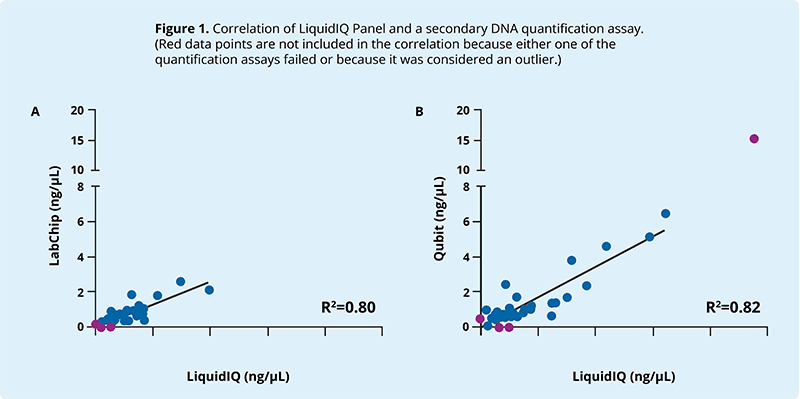 Quantification of samples with the LiquidIQ Panel showed the importance of input DNA amount to the accuracy of liquid biopsy testing: results from the UltraSEEK and Cobas tests showed a 100% concordance when > 10 ng DNA was used (as recommended for the UltraSEEK Lung Panel) but fell to 73-84% when < 8 ng was used, implying a loss of sensitivity.
Because the LiquidIQ Panel also tests for contamination, it was able to identify 12 samples with WBC contamination > 10%; those samples were more likely to have discordant tissue vs cfDNA test results.
The researchers concluded that a preanalytical cfDNA quality control assay, such as the LiquidIQ Panel, should be used to avoid bias and false-negative results due to low or poor quality cfDNA samples.
References:
1. Pierre-Jean Lamy, et al. Mass Spectrometry as a Highly Sensitive Method for Specific Circulating Tumor DNA Analysis in NSCLC: A Comparison Study. Cancers 2020, 12, 3002; mdpi.com/journal/cancers
2. See other customer story, UltraSEEK Lung Panel Helps Labs in France and The Netherlands Achieve Fast, Cost-Effective EGFR Detection, for more information on their evaluation of Agena's UltraSEEK Lung Panel.
Explore Ultra-Sensitive, Low-Cost Oncology Testing with Agena Bioscience
Browse our liquid biopsy or tumor profiling solutions and see which ones best fit your laboratory needs. Prefer a custom solution? Design your own custom assay or let our expert scientists serve you.